Lesson learned from DIY-ing a patio: don't DIY a patio! Just kidding -- sort of.
Original plan was to make a gravel patio like the one I'd seen in Coastal Living magazine while waiting at the dentist.
But then a neighbor was getting rid of a wall's worth of bricks, so we thought maybe we can use them to make a patio.
It took a lot of effort to bring them back.
Some were whole, some broken, almost all had mortar that needed to be chipped off using a mason's chisel and hammer.
This process took a day's worth of work. Taking turns.
It's not hard, but it takes time and it's tiring. Once we got several stacks of bricks we were able to have a better idea of how much the brick would cover for us.
We tried different patterns, knowing we couldn't solidly cover the whole space. We wanted something open that could be filled in with gravel.
This is a sort of open herringbone pattern, but shortly after setting this up, we had a better count on the brick and realized that it just wasn't going to be enough.
Time to regroup and decide what the patio should look like.
Another part of the prep was to lay out the patio. I used spray paint to mark the edges.
We rented a sod cutter to take out the grass.
But that wasn't deep enough to fit the sand base and bricks so we had to dig this deeper by hand. And when I say we, it was mostly Matt.
Our ground naturally sloped away from the garage and house, so we really just had to maintain that. But to do so included stakes and strings and levels.
And headaches. Lots of headaches.
Once we were happy with the ground, we laid weed barrier. And of course it was windy that day, so we hurriedly placed sand on the weed barrier to hold it down.
We added sand and used our string to maintain our slope, and used our homemade handy dandy tamper.
Why buy what you can rig up?
So, then we went with Plan G and placed the bricks on the edges in a zipper-like pattern, or chevron if you prefer.
Near the garage and the gate, we had the zipper spread into an expanded herringbone pattern.
After sweeping sand into the crevices, it was time to get the gravel. I really wanted stone that was slightly larger, but all the stone around here was very sharp if it was bigger so I was forced to go with pea gravel. (And yes, picture me at stone yards sans shoes and socks walking over stones. You gotta do what you gotta do!)
So, more shoveling.
We filled the space with gravel.
Personally, I like the way the gravel looks when it's wet better than dry, but the reason I'm glad we went with it is because we can run across it in bare feet.
It took us 2 weeks of considerable effort. Only a few days in that time frame were not spent on the patio. We have a patio that is approximately 350 sq. ft. We used somewhere in the neighborhood of 400 bricks. Matt priced the brick at a store and realized that we were saving anywhere between $400- $1000 by reclaiming these bricks! And that doesn't even cover the the whole expanse. I can't imagine paying for a patio this large.
We spent $60 on the sod cutter rental, $75 in sand (and this would have been closer to $300 had we not bought in bulk), $70 on the gravel (again, bought in bulk). The bricks were free, so in the end we spent $205 to build our patio. It would have been several thousand to be professionally done with all pavers.
So, you can see we have to repair the yard where there are now dirt patches, and we still have to deal with the dirt we took out and the mortar we chipped off. In the end, it was worth it to have the patio.
I got to wear many days worth of crazy stylish outfits:
What do you think? Will I be setting the fashion world ablaze? Ha, ha.
And suffered some injuries:
Sorry, some of you are freaked out by that. I won't do it again.(Probably.) But that is to illustrate why we should always wear shoes when chiseling mortar off bricks.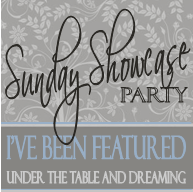 This post may be linked at the following parties (for their Blog Buttons see my Link Love page): (M) Mad Skills , C.R.A.F.T., Amaze Me Monday, Sumo's Sweet Stuff, Singing Three Birds, Masterpiece Mondays, Making the World Cuter, A Little Birdie Told Me (T) Stories of A to Z, The Blackberry Vine, How To's Day , Type A, Amaze Me August, Ten Buck Tuesday, Handmade Tuesdays, Anything Related, Tuesday's Treasures, Strictly Homemade, Show Me What Ya Got, Time to Shine, (W) Wow Me, Workshop Wednesday, Whassup Wednesday, Blue Cricket Design, Look What I Made, What I Whipped Up, The Trendy Treehouse, Wicked Awesome Wednesday , Good Life Wednesday, Inspiring Creativity, Sweet Peas & Bumblebees (TH)
Beyond the Picket Fence Creative Juice, Somewhat Simple, Thrifty 101 , Smilemonsters , Everything But the Kitchen Sink, Shabby Chic Cottage, Thrifty Thursdays, House of Hepworth's, Thrilling Thursday, (F) French Country Cottage, Fingerprints on the Fridge, Furniture Feature Friday, SevenThirtyThree , Lovely Crafty Weekend , Simply Designing, Creative Corner, Tickled Pink 504 Main, Inspiration Friday at The Picket Fence, Friday Flair, Remodelaholic, For the Kids Fridays, Frugal Friday, Craft Goodies, Flaunt It Fridays , Thirty Handmade Days (Sat) Tatertots and Jello , Anything Goes (Sun) Creative Blog & Hop, Sundae Scoop, Under the Table and Dreaming